Lancaster County received its first significant snowfall Wednesday – about 9 inches of the stuff.
So on Thursday afternoon, Bruce and I packed up our cross-country skis and headed to Nolde Forest, only 20 minutes away on Route 625; actually it's just over the border in Berks County.
There's no better place to appreciate the beauty and romance of the snow than among the towering pines, planted over 100 years ago. When hosiery baron Jacob Nolde acquired this area in the early 1900s, there was but one single white pine. Inspired by this tree, the German-born Nolde hired an Austrian forester to create a coniferous forest. Now it's one of the few places around where you can enjoy over 600 acres of century trees.
There are trails, occasionally marked when they cross each other. We just followed the tracks left by some hikers.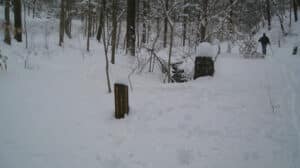 Once off the road, the forest becomes very quiet. Occasionally there's a group of birds, the gurgling of a stream, or a call from Bruce as he waits for me while I play with the camera.
See if you can hear the stream…
Big puffs of snow, falling from high tree limbs, float to the ground silently.
Turn in any direction and you'll see majestic trees reaching skyward.
And the snow is so pristine, it looks blue.
Thank you, Jacob, for having the insight to create such a beautiful place.
Nolde is a well-kept secret – in fact, we only saw two other folks the entire time we were there.
So, grab your Valentine, pack your skis or hiking boots and your backpack and we'll fill a thermos with hot chocolate, pack up some cookies and send you on your way for a romantic afternoon.
Not into skiing? Here are some other ideas for staying warm in the winter…
Go Ice Skating.  New York has one. So does downtown Cleveland, and now Lancaster has one, too—its very own ice rink. Skating is depicted on countless Christmas cards throughout the years, a romantic way to spend an hour or two. Yep, we've skated here at Clipper Stadium. No skates? No worries – they rent.
Or stop and build a snowman, Lancaster has many parks with all the snow you'll need.  We found this one on the way to Nolde – just past the Amish schoolhouse.  I couldn't resist giving it a hug.
Of course you can look forward to coming back to the inn to soak in your own Jacuzzi, and sit in front of the fireplace. Ah, the best part of winter is warming up.
And don't worry about a little bit of snow – The Artist's Inn is located on State Route 897, so our road is nearly always clear.
For more romantic ideas for Valentines's Day – or any day, see our January Blog, "25 ways to add romance to your getaway in Lancaster County" from last year.