This is a blog I wrote several years ago. Since it's pumpkin time again, I thought it might inspire you to go out pumpkin shopping!
It's pumpkin time! Whether they grow them for fun or food, Lancaster County's farmers sure know pumpkins. I never realized there were so many varieties before moving to Terre Hill.  Of course, you have your typical "face" pumpkins – great for carving on Halloween.  They are at every farm stand this time of year.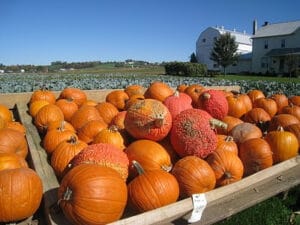 See how many of these others that you know.  Some of the names are as interesting as the varieties – Jack-be-Littles (tiny orange ones) and Little Octobers are shown with Baby Boo's (the tiny white ones pictured above).
The New Moon is white-ish and small and sit in front of the wagon. The big white rounded ones are called Full Moons.
In the back right of this picture, you'll see one of my favorites.  French Fairytales are elegant and very proud – with a lovely blend of green and orange and deep ridges.
It's easy to see why the SuperFreaks get their name.
These light green, small pumpkins are called Jarrahdales and are terrific for baking.
Cinderellas are beautifully bright orange and squat – as though someone sat on them.  They too are among my favorites.  They are a unique French heirloom whose correct name is "Rouge vif D'Etampes". Some say they resemble the pumpkin that Cinderella's fairy godmother transformed into a carriage. And they were also served at the Pilgrim's second Thanksgiving dinner.
The peanut pumpkins are not to be confused with the Red Warty things.
Another one of my favorites – and a little hard to find – is the One Too Many. So pretty.
Pumpkins are great for decorating, no matter how you stack them – all the way up to Thanksgiving.
The Autumn Cups are small and dark green.
The Turk's Turban is easy to remember..
As are the beehive – or maybe they are winter squash.  To tell you the truth, sometimes I have a hard time telling the squash from the pumpkins, but they are so much fun to decorate with, who cares?
Perhaps the best part of pumpkin growing is catching a glimpse of orange in the fields as you drive along the back roads.  Slow down and you'll see them!
So if you just can't live without a pumpkin, or two, or twenty, head to Lancaster County and support our local farmers.  We'll be happy to share a list of the best pumpkin patches near 
The Artist's Inn
.  But be warned – once you buy one, you'll want more.