Days start early in Lancaster County.  Farmers are up working in the fields, most restaurants serving breakfast open by 7, and, if you are in need of retail therapy early in the day, you just may be in luck.
You can find vendors in nearby Adamstown, known as the Antiques Capital of the USA, at their stands well before 7 a.m. every Sunday.
This past week there were three special sales that I wanted to attend. Luckily, they opened early.  Early, as in 6:00 a.m.
The first was at the Cackling Hen, an antique emporium stuffed into a building that the owners created when Covid stopped the the world. It's a Country Living Magazine spread come to life. Like vintage?  You're gonna like this shop!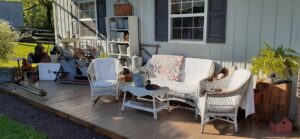 There are baskets, and quilts, watering cans with Halloween faces,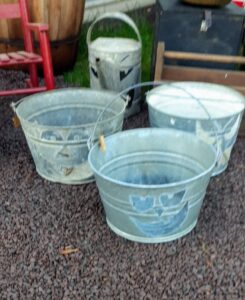 Tins of all sizes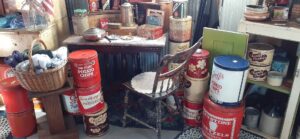 and even mittens made from old sweaters.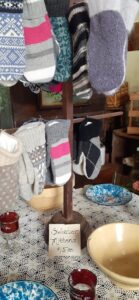 We arrived at 7:15, but there were already shoppers that had come and gone!
The next stop was just down the road to The Red Barn on Boulder Hill Drive. The outside holds as much stuff as the magical barn.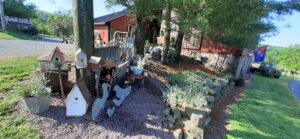 Sally, the owner, has quite an eye for display. Similar objects are grouped together, inspiring all kinds of ideas.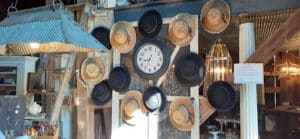 She brings recycle, reuse, and repurpose to new heights.  Who knew that an old spring mattress would look so good holding your plants?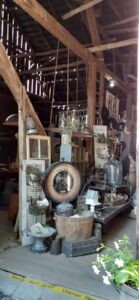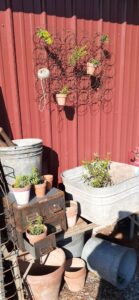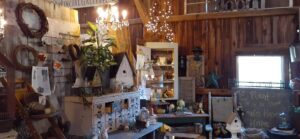 So many treasures waiting to be discovered…..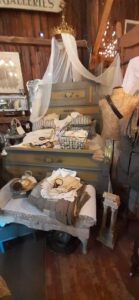 The next day I ventured out to a special barn sale at Mary's Gift Shop. I had been to Mary's before (the shop literally explodes with antiques), but nothing prepared me for the two big barns that they had opened just for this sale. I didn't get there until after 8, and the owners assured me that they had early callers at 5:30 a.m. – even before their special opening at 6!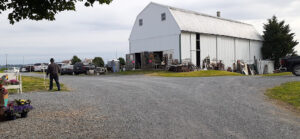 They were also selling baked goods, flowers, veggies and duck eggs. But the real tease was the smell of the chicken on the grill- even though it wouldn't be ready until 10.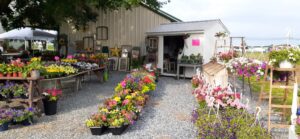 The barns were not your typical garage, yard or estate sales. All items were carefully gathered, and arranged with love to appeal to everyone.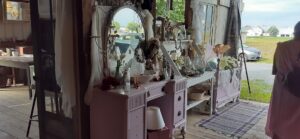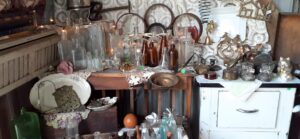 And, of course there was shopping for the guys – old tools, doors, shutters, signs.  I couldn't resist a huge old galvanized wash tub. My flowers are going to love it.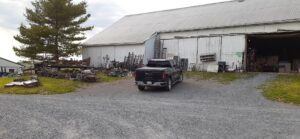 They even had the proverbial sink!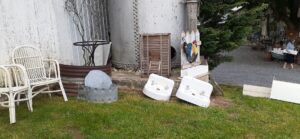 Not an early riser? No worries. All these shops keep regular hours – these were special sales. And you'll have plenty of time to catch up on your sleep until they come around for the next Memorial Day!  And the BEST part – they are all only about 10 minutes from The Artist's Inn.
Here are the details:
The Cackling Hen – 184 Boulder Hill Road, Mohnton PA 19540  717-471-1562
The Red Barn on Boulder Hill – 218 Boulder Hill Road, Mohnton, PA 19540  717-445-6464
Mary's Gift Shop – 737 North Railroad Ave., New Holland, PA 17557  717-354-7755