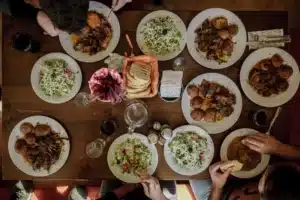 We welcome this blog from Noel Maldonado......
Tucked away in the small town of Terre Hill is the Artist's Inn and Gallery, a quaint and unassuming bed and breakfast. Smack dab in the middle of Amish and Mennonite farmlands in Lancaster County, the Artist's Inn is the perfect getaway destination — especially for couples or anyone looking for the kind of peace and quiet you'd never get in the big city.
There are a lot of things that make the Artist's Inn and Gallery an amazing place to stay. From the lovely romantic vibe and old-world look to the amazing art gallery and beautiful gardens, we guarantee you'll find something to fall in love with at this bed and breakfast.
One of the best things about staying at Artist's Inn is that it puts you in the best location to try all the delights Lancaster offers.
More Than Just a Romantic Getaway B&B
The Artist's Inn has a long-standing history. The 174-year-old accommodation has made a name for itself as a premier B&B, offering spacious suites, complete with massage showers, whirlpool tubs, fireplaces, private porches, fire pit, and flat-screen TVs.
Over the years, it's become a favorite destination for couples looking for some quiet time together. However, it's more than just a romantic getaway destination for couples. It's also a perfect base for foodies on a quest to experience the local cuisine — a hidden gem if there ever was one!
Even the inn's breakfast offerings are nothing to scoff at. Each morning, they offer four-course gourmet breakfasts for the guests. You not only get a cozy, warm, and spacious room all to yourself, but you're also served a home-cooked breakfast. The Artist's Inn makes all its breakfast dishes from scratch, using herbs and produce straight from its breakfast garden.
Must-try Restaurants near The Artist's Inn
The Artist's Inn is a perfect place to stay not just for antiquing in Amish Country but for trying out hearty comfort meals that really hit the spot. You'll be surprised at the diversity you'll find here.
Below are some of the best restaurants to visit when you're staying at The Artist's Inn and Gallery.
If you're looking for top-quality food but can't decide what exactly you want, then there's just one place to go: Shady Maple! This restaurant lives up to its reputation as the biggest buffet in Lancaster County. It has a little bit of everything, from American classics and authentic Pennsylvania Dutch cooking to vegetarian-friendly dishes and delectable desserts.
Despite its name, Lickity Split is more than just an ice cream shop. It's the place to go if you've got a hankering for yummy meals, too. Their flavorful dill pickle soup is a classic, but if you're looking for something more filling, you won't regret getting a stuffed pretzel melt or any of their sandwiches. Of course, save some room for dessert. Lickity Split has some of the town's best homemade ice cream and milkshakes.
Who doesn't love pizza — especially when it's this cheesy, delicious, and affordable? Slice of Italy Pizzeria is the place to go if you want a slice of pie that doesn't skimp on anything except the grease. Whether you're in the mood for a plain cheese pizza or a full Italian meal, you'll love this place. And...it's just a short walk from the inn.
If you've got a sweet tooth, you should go to Sunny Side Pastries. This Amish bakery offers a wide array of incredible baked goods: donuts, cheesecakes, peach pie, danish, blueberry fritters, whoopie pies — they have it all. These are the same folks that have had a stand at Green Dragon for years.
The Olde Lincoln House is a classy restaurant and tavern. This place is perfect for romantic date nights and a little social drinking afterward. Some must-tries include roasted tomato soup, buffalo wings, Delmonico steak, and prime rib sandwich. You may want to call ahead for a reservation, though — people love their food and drinks, which shows how packed the Olde Lincoln House can get.
Not open yet a year, this is the place to go for good food, all kinds of drinks and fun. The deck is so inviting – you'll feel as though you're on vacation with water fountains, cornhole, and fire pits. And bring your dancing shoes – they have music Wednesday through Sunday nights.
Summer just would not be complete (well, neither would spring or fall….) without a few trips to Boehringers in nearby Adamstown. They've been serving up burgers, fries and ice cream since 1937! Be sure to order at the window and then stand back (just like in a Seinfeld episode) to wait for your order. Enjoy your meal at the picnic tables by the creek. My favorite? Well, the chocolate almond amaretto with hot fudge. YUM!
Need more suggestions? Check out The Artist's Inn Restaurant Page….it's updated fairly often as the owners explore restaurants throughout the county.
Noel Maldonado
for LancasterPA.com
(717) 205-2094